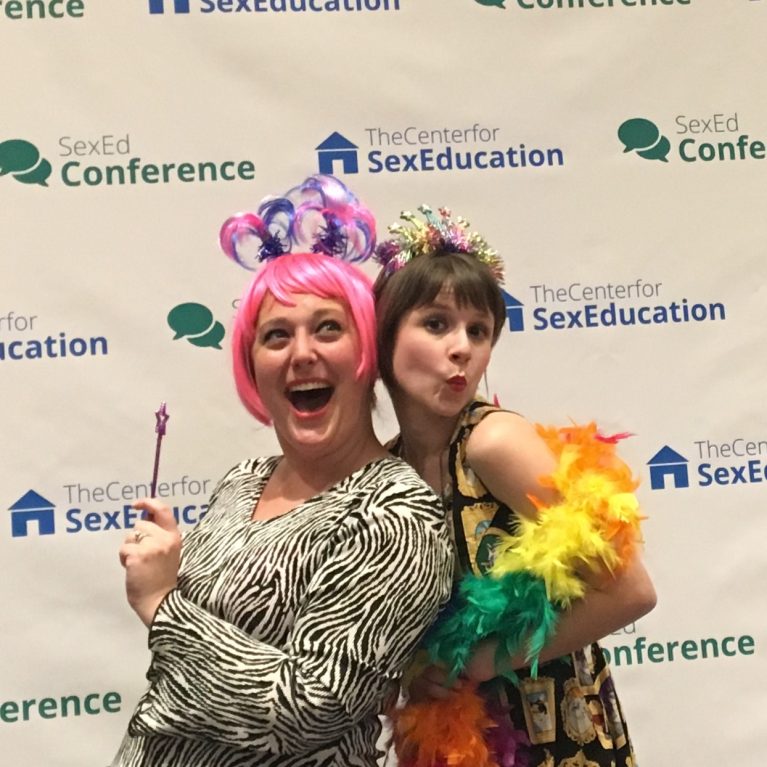 Don't worry, you're in safe hands.
Welcome to SexEd Talk
A collaboration between Christian Hoeger and Kristen Lilla, to bring sex education to the forefront. They believe everyone has a right to sex education that is intersectional, medically accurate, comprehensive, and inclusive.
The duo met in 2013 and began to collaborate on projects soon after. They have presented at workshops throughout the country, including several times at Eyes Open Iowa and the National Sex Education Conference. Together, they have taught sex education in the classroom, started a micro-publishing company, and created the world's first vagina pop-up book.
Our Services
Check out the Vagina Pop-Up Book
Christian Hoeger
Licensed Mental Health Practitioner
Christian Hoeger is a Licensed Mental Health Practitioner (LMHP) in Omaha, NE. She has a Master of Arts (MA) and a Master of Education (EdM) in Psychological Counseling from Columbia University. Christian is the Director of Counseling at Girls Inc. of Omaha and has a private practice, Voice of Hope Counseling. She presents frequently at conferences and has been published in the Center for Sex Education manuals Unequal Partners and Orientation: Teaching about Identity, Attraction, and Behavior. Christian loves her twin boys, is an avid foodie, and loves to travel!
Kristen Lilla (she/they) is a Licensed Clinical Social Worker and an AASECT Certified Sex Therapist, Educator, and Supervisor. In 2020, Kristen won the AASECT Sexuality Educator Award. Kristen is also the author of Boxes and How We Fill Them: A Basic Guide to Sexual Awareness and co-author of Vaginas and Periods 101: A Pop-Up Book. In addition, Kristen has been quoted in numerous articles from Cosmopolitan to CNN. Kristen is an international speaker and has a private practice doing therapy with couples and individuals. When not writing, Kristen loves to travel, shop, and sip on a hot latte.